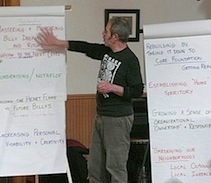 Caring for LGBTQI Patients:
Developing Greater Sensitivity and Success
a CEU-worthy Course
This course empowers care providers to build better rapport with LGBTQI clients leading them to increased understanding, personal confidence and comfort in those relationships plus greater success in delivering care. The issue is not that we have unconscious biases. We are, after all, enculturated with them. Our responsibility is to bring our biases to consciousness and seek to negate them.
Cultural Competency Training teaches healthcare providers how to establish trust and encourage disclosure by LGBTQI patients (Lesbian, Gay, Bisexual, Transgender, Queer, and Intersex as well as Men who have Sex with Men – hereafter referred to as LGBT.)
Issues Covered
This class covers a full range of issues concerning the intersection of care providers and the LGBT communities including:
coming out as a lifelong process
inclusive, welcoming administrative forms
the importance of Advance Healthcare Directives to gay people
how best to relate to patients' partners and friends-as-immediate-family
the transgender experience of growing up in the wrong body
the needs of gender-nonconforming youth
how to spot bullying
the toll of homophobia and internalized homophobia
the prevalence of domestic violence
new approaches to intersex people
conflicts of faith and
specific healthcare needs of each of the LGBT populations.
Approach
Through a variety of presentations, interactive experiences and evaluative processes, participants gain familiarity with LGBT populations. The class catalogs and explores the six components of a healthy relationship between care providers and their LGBT patients, providing an understanding of the best practices that manifest the best care. Ample time is given for discussion and questions.